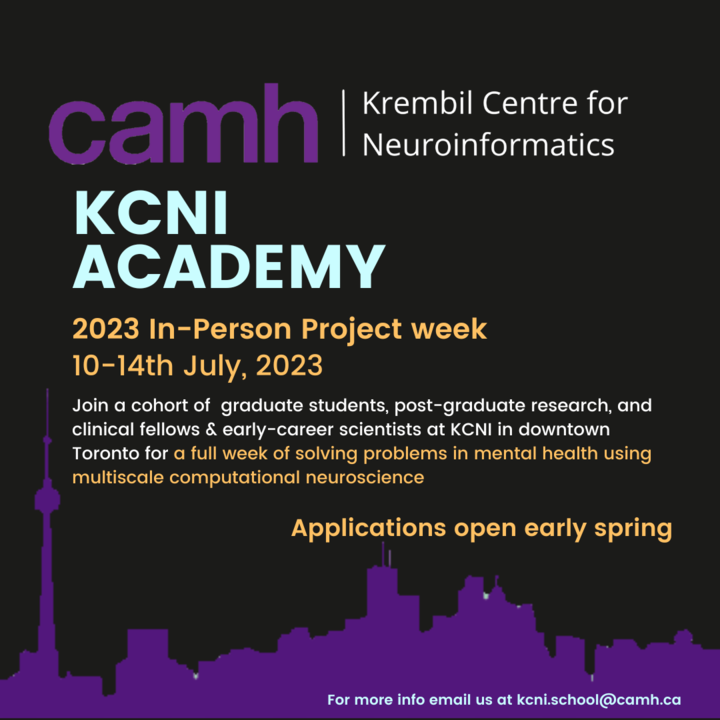 When: July 10-14, 2023
Intended Audience: Graduate Students, Post-Graduate Research and Clinical Fellows, as well as Early-Career Scientists with interest in learning more about Neuroinformatics
Where: In-person at the Krembil Centre for Neuroinformatics, 12th Floor, 250 College Street, Toronto, Canada
Cost:  Minimal ($50), only 30 spots available
Application Deadline has been extended to June 9, 2023, 11:59PM EST!
Those selected to participate will be contacted in mid-June to register.
Overview
The Krembil Centre for Neuroinformatics is excited to offer a five-day intensive project-based learning week where trainees will learn hands-on techniques for integrating multi-scale neuroscience data. This course is designed to introduce participants to the concepts and methods behind psychiatric neuroinformatics - encompassing genetics, brain structure and function, and cognition.
In addition, participants will uncover the links between modalities of human genomics, neuronal electrophysiology, structural and functional neuroimaging, and observed behaviour that KCNI scientists are integrating through a series of virtual modules and a group-based project using real-world data types to study mental illness.
This unique learning opportunity will prepare participants to handle and analyze multiple data types in hopes that their own research may benefit from collaborative, multi-modal approaches. Critically, participants will also learn about best practices for data management and quality control in the context of integrative analysis.
Application Deadline June 2, 2023
Those selected to participate will be contacted in mid-June to register.
Course Requirements and Prerequisites
Applications from senior undergraduate students, graduate students, post-graduate research and clinical fellows, and early-career scientists will be considered. Researchers from diverse backgrounds (e.g. medicine, computer science, biology, psychology, engineering etc.) are encouraged to apply. To ensure that all attendees can fully follow and benefit from the practical assignments, fundamental and demonstrable experience in R and Python is a minimum requirement.
Delivery Method
Students will be provided with a collection of virtual didactic teaching (lectures) and hands-on tutorial components to engage critical thinking and develop practical skills in crucial selected areas. Lessons will be led by members and affiliates of the KCNI team, including faculty at the University of Toronto's Department of Psychiatry. Successful applications to Project Week will be mentored (in-person or hybrid) by KCNI Scientists as they complete one-week intensive group projects matched to their interests. These projects will allow participants to build mastery in selected integrative research methods.
All project week participants will take part in each full day of training. Students will have the opportunity for project-specific discussions, collaboration, and guidance outside of structured time.
Students will present their group project to KCNI Scientists at the conclusion of Project Week. Project week will occur in person at CAMH KCNI and be supplemented by multiple networking, collaboration, and socializing opportunities.
This year's projects
This years students will be split into groups who will each focus on one of the projects given below, will guidance from KCNI trainees and staff